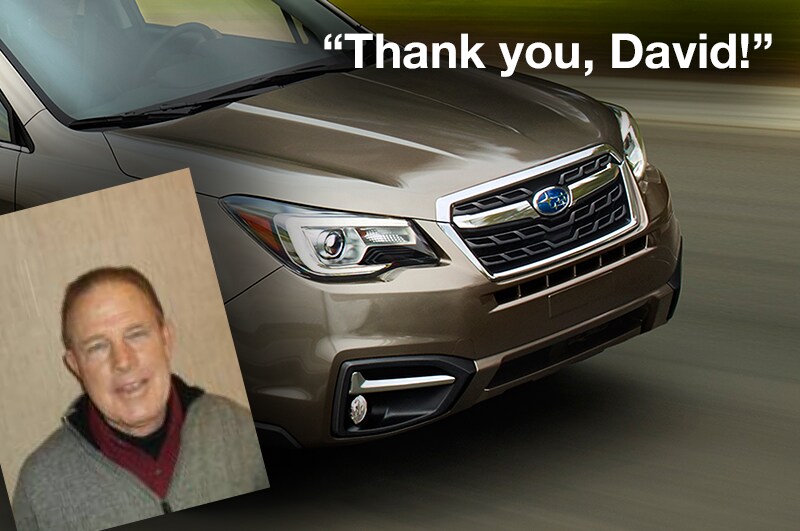 "It's been a real pleasure purchasing my new Forester. David is one class act and very well informed on his product. He's been there helping every step of the way. I definitely feel important and well taken care of with him. I really appreciate his hard work making this happen. A dealer can be made or broken on the power of their team and from all I've seen you have a real top of the line crew."
-Claude M. August 2016

All Services at COOK in Steamboat Springs are the BEST! Our family has had a long relationship with COOK. Over the years we have purchased more than 6 Subaru's at COOK. We can easily travel down to Flat Irons Subaru Boulder the largest Subaru distributor in the USA. But we prefer COOK in Steamboat. Every aspect of car ownership, service, customer, KINDNESS and help is the best. So many people to name! Basically it is the entire TEAM! If you want me to comment more on each COOK employee my family has had a most positive relationship with I will because they are ALL OUT STANDING! Every single person! Come to Steamboat and see all the work this team does. Every other car in STEAMBOAT is a Subaru. Sure you guys make great cars but our local dealership is the BEST in the Country. 
-Dr. and Mrs. Steven R, March 2019

Buy your used vehicle from Cook in Steamboat! Be sure to ask for Wolf, their best Salesman. Here's why: I am a FT Steamboat resident and purchased a used Chevy Silverado High Country which ended up having some issues. Wolf was our sales rep and he was wonderful in every way - expert on all the features in the marketplace - and his guidance was spot on because we LOVE the vehicle. Wolf even arranged to have the vehicle stored the vehicle for a few days because it was a gift! He also came in on his day off to execute the deal so I could give the gift on time. The most notable part is that we discovered a couple of issues immediately (not 1,000 miles or several months later, but immediately). Wolf was on it - attentive, responded to text messages right away - he wanted to make sure we were taken care of since we had just spent money with him. The owner of Cook got involved and provided immediate approval for his people to do a full, costly repair. I did not have to plead my case. They did the right thing, even though they legally didn't have to. Also, Wolf got us a loaner vehicle, which I did not expect them to do since we were not paying for a service call. A side note - we have always had our Suburban serviced by their Craig Cook location - they are excellent - they fix it right, and they don't overcharge. Buying a used vehicle, we experienced the same integrity/professionalism.
- Heather M, January 2019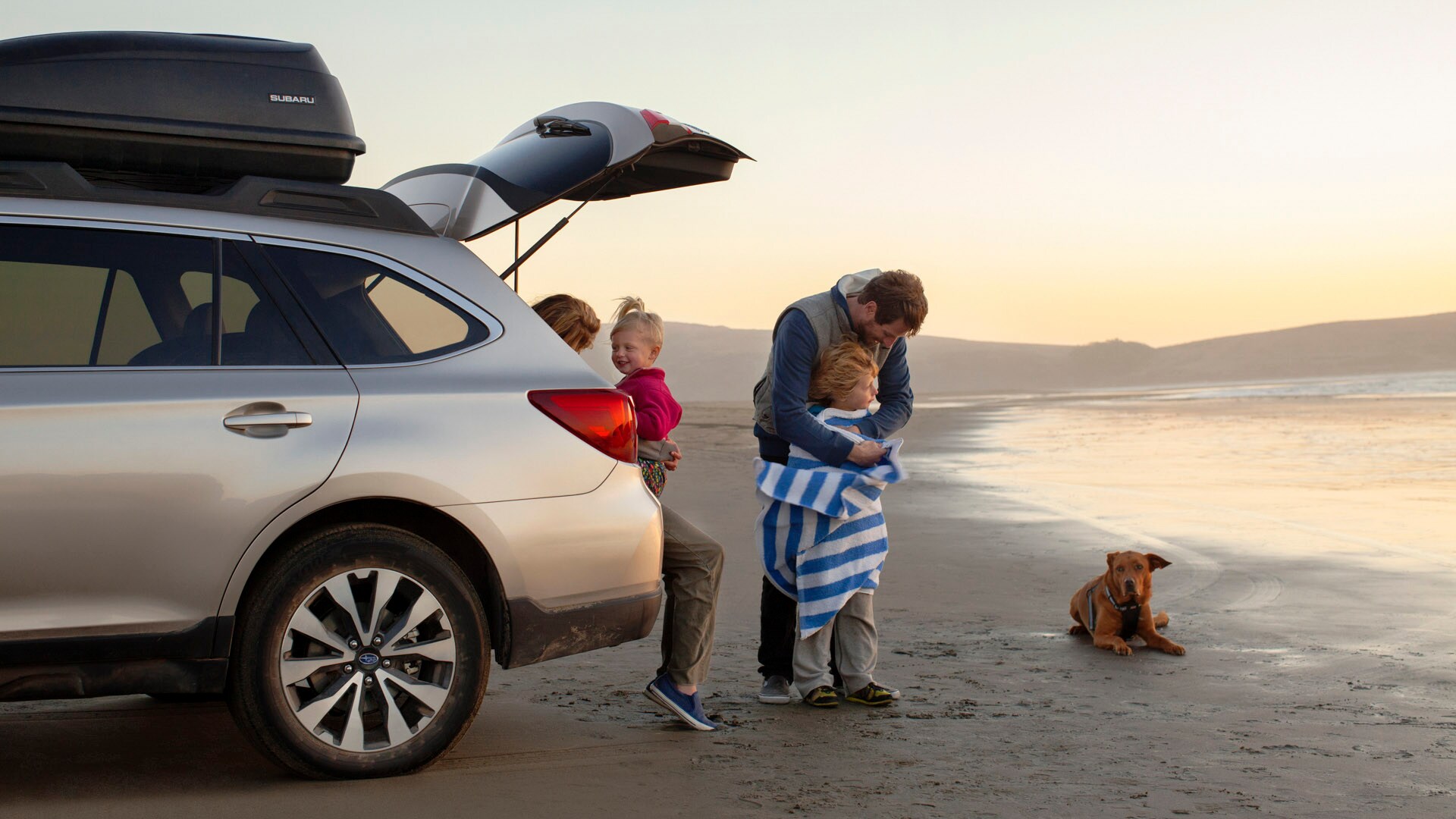 I've worked with Subaru dealers in Vermont, New Hampshire and Oregon. I've felt reasonably good with all of them. While this was only my first interaction with Cook Subaru service, I have no doubt that this is a service department that is professional and ethical. Really appreciated Darrell's clear communication, warm demeanor and good advice. He got everything done on time, including saving a summer tire, which means I don't have to replace 4 tires next spring. I have no need to look elsewhere for any of my Subaru service needs. Thanks. 
-Richard M. December 2018
We would like to heap some praise on Darrel and his support staff for their work this week. Primarily in for the airbag recall, they also resolved an annoying rattle that had been present for over two years - anchoring that heat shield makes a big difference - feel like a new car! Advice on bulb replacement is also greatly appreciated. Darrel also took extra time to explain everything in detail - good for me, but makes for better understanding for my daughter.
-John M.  March 2019
I have two small children in my wrx in car seats and so I am always worried about the overall safety of my vehicle. Darrel in service went above and beyond to inspect all the safety features on the vehicle as well as explained to me how the safety features work to keep my family safe. He made sure my tires were rotated even after I told him I didn't think they needed to be. But he assured me that the wear was uneven and needed to be rotated to keep us safe as a family. Being a single mother is hard and safety is always my number one concern. But Darrel and the folks over at cook subaru take my family's safety extremely seriously and that makes me feel like I made the best decision buying subaru. Because of their dedication to safety and attention to detail, I will remain a Subaru customer for life.  - Bethany K.  May 2019
We had a good experience buying our Subaru from here. Leon was very pleasant to deal with and kept things honest. We were treated very decently, and Leon showed no frustration with how particular in deliberating the purchase we were. I feel that between Izzy and Leon, they never promised anything they couldn't deliver and they laid out a plethora of options concisely. We were able to make a very informed purchasing decision and they let us take whatever time we needed, knowing full well that we were researching alternative places and prices. After all the homework we did, and looking at many vehicles throughout the state at competing dealerships, we found the value we were looking for right locally in the town where I live and work. It was also good to have a rapport with the dealership as I work with people who know them personally or people they're related to. If we had any issues, it would be a matter of personal reputation for them at stake, and that was a factor in our decision. If Leon sees this, thanks for coming out and meeting us while we were just browsing cars, you're very attentive and had a lot of accurate information on your inventory. It's one thing for a salesman to spew whatever it takes to make a sale, but you represented the products honestly. I respect that a great deal.  - Mark J.  September 2019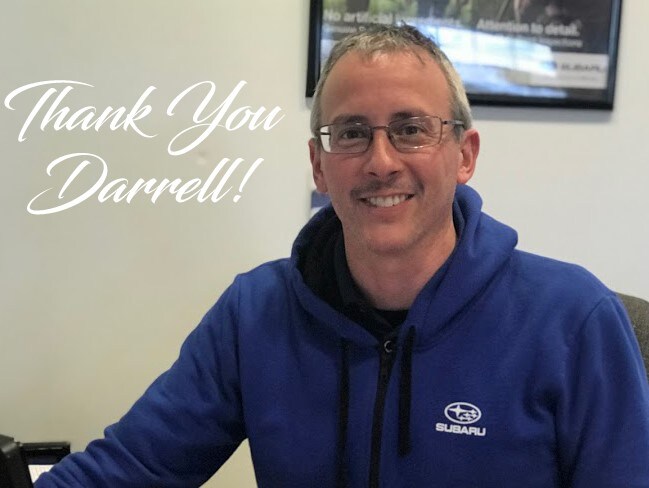 Darrell and his team are so reliable and truly go above and beyond -- last month I accidentally had my husband's tires in my car on the day he was supposed to get his tires put on... I couldn't get away from work so Darrell coordinated having someone from his team DRIVE TO HAYDEN to get the tires for us! It was during one of their busiest times due to the heavy snowfall in October - and Darrell bent over backwards for us. I highly recommend Cook Subaru's service department - they have integrity, skills, take the time to talk things over, and will always share a smile no matter how busy. Thanks Darrell! - Adrienne I. November 2019
I want to thank the entire staff there for helping me out. We had a family emergency and needed to get our Ascent serviced and tires changed to head out back to Texas. From Barbara in Service to Rusty at the front desk they were very helpful squeezing us in. Darrell and his team were super. Rusty helped us get a loaner for appointments we had during the car service time. Darrell made sure all went well. Thank you all. - Steven J. February 2020 
Hours
Monday

08:00am - 05:30pm

Tuesday

08:00am - 05:30pm

Wednesday

08:00am - 05:30pm

Thursday

08:00am - 05:30pm

Friday

08:00am - 05:30pm

Saturday

09:00am - 03:00pm

Sunday

Closed
Make an Inquiry
"Thank you for taking such good care of me and my Subaru. I needed extra service items taken care of and everyone was so accommodating (two headlight bulbs replaced instead of one, oil change, snow tires removed, summer tires put on). Thank you so much for doing everything so cheerfully! And my Subaru is VERY happy, purring along with its new oil and headlights." -Debbie, June 2016
"Alex Wolf was exceptional! When I first visited Cooks I was looking to possibly leasing a car. I had no idea that I did not have a credit history and Alex was able to finance a brand new car at an affordable budget for me. I was truly surprised and could not believe the finance rate that he was able to get for me. I believe that without Alex assisting me, I would not be driving a new car now! Thank you." -Alex, April 2016
Our local Subaru dealer is the best, we have bought 6 vehicles from Cook Chevrolet/Subaru. We love Cook in Steamboat Springs (and Craig) and feel very lucky to have them in our town. It's so nice to have to have local people that you know and trust. I feel I can count on them for anything. -Colleen W, September 2019
I wanted to let you know about the great service I received from your Service Adviser Darrell. I was driving to Steamboat from Loveland to mountain bike when a check engine light came on. I pulled in to your service department on a Monday morning and Darrell was sorting thru a ton of services that were on the docket. I explained to him what happened and he immediately moved my problem to the front of his busy day. He was able to not only diagnose and lock down the issue, he also replaced my passenger airbag which had an open recall. I am always fearful of mechanical issues while traveling as you are at the mercy of the service shop in that location. Darrell not only didn't take advantage of the situation, he actually made me feel very welcome and gave some great advice on local rides that I could explore while they looked at the car. I will always remember what he said when I mentioned this concern, he told me "We all have families and we all travel, we want to be treated the same way". He is an outstanding ambassador! Not only for the Suburu brand and your dealership, but for the City of Steamboat Springs. If I ever decide to trade in my Outback, I will be driving to Steamboat to make a deal on a new Suburu. Thank you Darrell! - Robert V. October 2019