The 2022 Subaru Love Promise Customer and Community Commitment Award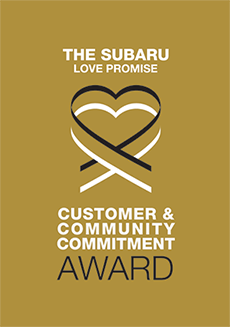 We've been nationally recognized for our dedication to our customers, our community, and the Subaru Love Promise.
We're honored to receive the 2022 Subaru Love Promise Customer and Community Commitment Award. This award nationally recognizes elite Subaru retailers who provide an exceptional customer experience at every interaction with Subaru. These retailers have also demonstrated an outstanding commitment to supporting passions and causes in their local communities in important areas such as the environment, community, health, education, and pets.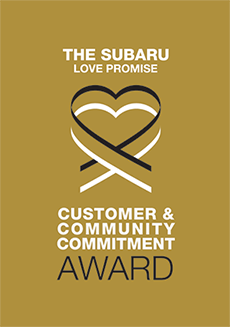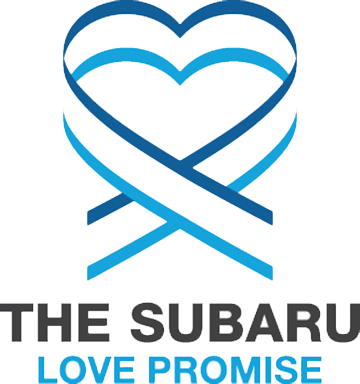 What is the Subaru Love Promise?
Subaru and our retailers believe in making the world a better place and the Subaru Love Promise is our vision of respecting all people. This is our commitment to show love and respect to our customers and to work to make a positive impact in the world.
How is Cook Subaru dedicated locally to the Love Promise?
Our Love Promise can be seen in various partnerships with local charities and non-profits. We're grateful for the opportunity, not only to be a part of our community, but to serve it as well.
Love Promise Stories from Cook Subaru
Subaru and Cook Subaru believe in making a positive impact on the communities in which we live and work. We uphold that belief through our Love Promise Community Commitment. Every month, we select inspiring stories from customers and partners from around our area who strive to support our collective commitment and feature them here
Dedicated to Our Valley - Kristen O
Whenever there is a need, the Cook team contributes. The company supports an annual workplace campaign where we receive support from both Cook and their employees. The campaign is company driven and produces incredible results. But the even bigger impact is seeing how people care, from Scott attending important community conversations, to staff volunteering on local boards and helping with non-profit events. The team at Cook exhibits the epitome of love for our valley and the people who live here. In rural communities, we rely upon one another to make a difference-Cook is dedicated to that effort.
---
Cook Subaru opens their doors to help community - Elaine H
When the Routt County Humane Society (RCHS) received a $4000 grant from the ASPCA® (The American Society for the Prevention of Cruelty to Animals®) to support vaccination efforts of pets throughout northwest Colorado, Scott & Steve at Cook Subaru immediately opened their doors, literally. In October 2021, Cook Subaru welcomed RCHS and the opportunity to host a county wide free veterinary care clinic at their showroom in Steamboat Springs, CO. The location was perfect as individual offices were used as exam rooms and there was plenty of space for underserved community members to remain distanced while they waited for their pets to be examined and vaccinated. RCHS and Cook Subaru also provided refreshments for the humans which was very much appreciated! Because of this grant and the support of Scott & Steve at Cook Subaru, RCHS was able to vaccinate, microchip and test for communicable diseases in over one hundred community owned pets. The ability to provide these services at no cost means that RCHS was able to further our efforts of decreasing communicable disease among animals as well as promoting the health and safety of pets and humans in our community by ensuring all pets are vaccinated. Thank you, Scott & Steve, for everything you do for our community!
---
Cook Subaru supports county-wide volunteerism - Kate N
Not all businesses reach out like Cook Subaru. Scott, Steve, and the whole Cook Subaru team believe in community. Each year Routt County United Way produces a Day of Caring for the entire Routt County's nonprofits and government entities. This past year, we supported more than 40 projects with more than 270 volunteers saving nonprofits more than $20,000 in labor costs. The day was perfect weather and volunteers learned about their nonprofit before rolling up their sleeves to do the work. Then, at noon, everyone gathered at Howelson Hill park for a lunch provided by the local Ski Town Lion's Club. Awards were given out and prizes for many of the volunteers. Talk about a feel good event! Thanks to Cook Subaru for supporting programs like this in our community.
---
Darrell Horton is the best! - Laura S
Darrell Horton in the service department at Cook Subaru in Steamboat Springs is great! No matter what issue (large or small) I'm having with my (now second Outback from Cook Subaru), Darrell does a great job of figuring it out and taking care of it and me!
---
Learning, Helping, Caring-Thank You! - Kristen V
In our rural community we face unique challenges, and the relationships we build with local businesses is imperative to the success of our community. Continuously, we have received support from Cook and its employees during their annual workplace campaign. Due to their contributions, we are better able to impact health, education, and financial stability of Moffat County residents. Their support ensures that people aren't experiencing hunger, individuals with disabilities have a safe home, children receive mentoring and rich learning environments, and so much more. We appreciate the support of Cook, because they love EVERY person in our community, as they partner with over fifty human service agencies to help make Moffat County shine.
---
Helping those in need - Kate N
A struggling family can't make preschool payments, a youth deciphers all the ways to retaliate against bullying, a family robs peter to pay paul, and a crisis hits a family hard. What does all these things have in common? They are all residents of Routt County where they find scholarship dollars, youth counseling, financial literacy classes and connections to those that can help in crisis. Thanks to Cook Subaru, and their Share the Love event, much needed dollars support these projects and programs that help those in need. The team at Cook Subaru are enthusiastic professionals that know their product and can fit the right vehicle for the right person. Their colors shine during the Share the Love event by raising much need dollars to help causes in our communities.
---
KRAI 21st Annual Holiday Drive - Don T
Thanks to Cook Automotive for supporting the 21st Annual KRAI Holiday Drive. The event benefits four Moffatt County non profits including Christmas for Kids, Christmas for Seniors, Interfaith Food Bank & Open Heart Advocates. Without support of great local companies like Cook Automotive, the annual event would not be in its 21st year. Thanks again for supporting our local community. Cook Automotive cares. Don Tlapek Owner KRAI AM & FM
---
Cook Subaru Looking Out for Our Community - Kate N
Our community of Steamboat Springs is a special place that attracts mountain bikers, ranchers, skiers, hunters, hikers, boaters -- if it takes place outdoors it is most likely a part of our local culture. It is impossible to drive to the market without seeing a Cook Subaru hauling a bike rack, cargo box, or towing a raft. Through the Share the Love campaign, Cook recently donated over $7,800 to the Routt County United Way to help support our efforts in early childhood education, youth success, financial self-sufficiency, and health and crisis services. In a rural community far removed from the state's economic powerhouses it can often be challenging to fund all of the programs that are integral to the well-being of our community. This generous donation has allowed us to continue lending a hand to our neighbors so we can all live full and secure lives. We are so grateful to have Cook Subaru on our team and thank the crew for the continual commitment to our community.
---
Thank You Cook Subaru for Sharing the Love - Kate N
For over 50 years, Cook Subaru has been helping the people of Northwest Colorado find the right car that fits their lifestyle. Whether that car is helping a soccer mom transport the team captain to her next big game or providing dad enough trunk room so he can load up all of his camping gear for the annual boys trip, Cook Subaru has been there to assist our community. This year, Cook Subaru took the initiative of going above and beyond helping people find their next new ride by teaming up with Subaru USA to participate in the Share The Love Promise. The Subaru Share The Love Promise is an inspiring community initiative that gives back to local charities. Cook Subaru raised and contributed $5,500 to Routt County United Way, supporting our continued commitment in early childhood education, youth success, economic self-sufficiency, and health crisis and emergency services. The $5,500 will help Routt County United Way fight for the education, health and financial stability for every person in every Routt County community. We are very grateful to Scott, Steve, and the Cook Subaru team for making a difference in people's lives.
---
Partnering for Impact in Routt County - Cook S
Scott Cook of Cook Subaru is a long standing strong community partner in Routt County. Scott and his team care about our community and partner to help make Routt County a better place. Routt County United Way is delighted to be a recipient of Subaru's Share the Love event at Cook Subaru. The generous check will be used to build strong foundations through early childhood education and at-risk youth programming, stabilizing and strengthening families and empowering healthy lives. Thank you to Subaru for making this partnership possible. Kate Nowak, Executive Director, Routt County United Way
---